There has been mixed messaging around keeping your Mac backed up, so it is important to understand what options Apple has built for keeping their users' data safe.  
The option most people are familiar with is iCloud. This service is tied to your Apple ID and can back up certain kinds of data to Apple's servers. The strength in this is that, being in the cloud, your data is safe in more than one place. This means that, even if your device is lost or damaged, the data you had stored with iCloud, be it contacts, photos, or documents, is safe and accessible elsewhere. Likewise, any data you have in the cloud can be synchronized to other devices. This means that you can have one centralized photo library, one calendar, and one set of contacts that will stay consistent across any of your devices – from desktops to smartphones, laptops to tablets. Anywhere you have an internet connection, you can stay backed up and stay in sync across everything. 
 There are shortcomings to this approach – iCloud has its own weaknesses. First and foremost, iCloud, at least for Macs, is fairly incomplete. iCloud can only back up and synchronize what you tell it to, and it cannot back up everything. The most complete iCloud backup is going to have large holes in it – music libraries, pictures or videos outside your "Photos" library, and your applications themselves are all things that cannot be backed up this way, and that's to say nothing about any other data you may have outside your Desktop or Documents folders. Depending on how much data you have, it's important to also remember that this is a service that costs money. While Apple does give you 5 GB for free, this can quickly be surpassed by even a single video file with most modern smartphones. If you want more storage, you're going to have to pay a monthly subscription fee, which can add up over the long term. Another issue is that of maximum capacity; Apple does not sell more than two terabytes of iCloud storage. While this might not be an issue for the average user, this may be a limitation for people with very large collections of data, like Photographers or video editors. While it does have some clever tricks for taking the burden off of your Mac's internal storage, iCloud cannot replace local storage outright, and will always be limited by the speed of your internet connection.  
 On the other hand, you have Time Machine. Time Machine is Apple's local backup and has been built into every Mac since 2007. With Time Machine, you have the ability to fully back up your Mac to an external storage drive with all of your files, settings, and applications. This means that, should something happen to your Mac or its data, you could get essentially everything back in exactly the state it was in at the time of the last backup. This is not even limited to a single computer, either – you could conceivably restore everything from a ten-year-old iMac to a brand-new MacBook Air, for example, despite them having nothing in common physically. Another strength to Time Machine is the cost against iCloud. Just one purchase of an external hard drive of sufficient capacity, and you're set for as long as the hard drive continues to function. With most drives lasting at least a few (usually more) years and with the overall cost being eclipsed by a large cloud storage plan within a year or less, the long-term cost is often fractional in comparison. Finally, you also have "history" with Time Machine. As its name implies, Time Machine does not store just one backup, but as many backups as the external drive's capacity allows, allowing you to retrieve files or data from days, weeks, months, or years ago – up until the first backup. This way, if you accidentally delete something you did not mean to, or change a file by accident, you can "go back in time" to retrieve an older version. Time Machine will not fill up the drive completely, either. As it runs out of space, it will simply thin out the herd of older backups, starting with the more granular time periods and working up to the larger ones in order of recency.  
However, just as iCloud is not perfect, Time Machine has its flaws too. For one, it's a local backup only. This means that, if something should happen to the external hard drive, it's as good as gone. This can be alleviated with diligence and by using more than one drive, perhaps keeping at least one always stored in a fire safe or a safety deposit box off-site and swapping them periodically, but this brings the cost and effort on your part up. For laptops especially, this need to be connected physically to the drive for the backup to occur can also be a bit of an inconvenience on a device designed to be portable, especially in cases where the laptop is often on the go.  
For the sake of redundancy, as well as some of the aforementioned weaknesses to each approach, a hybrid strategy is always our best recommendation. Where possible, both strategies should be employed to cover the weaknesses of the other. This way, should one fail, the other can be used instead. We cannot overstate the importance of maintaining a good backup, because it only takes one bad day to lose you months or years of information. Reach out to us at RGB and we can help formulate a backup plan that's right for you.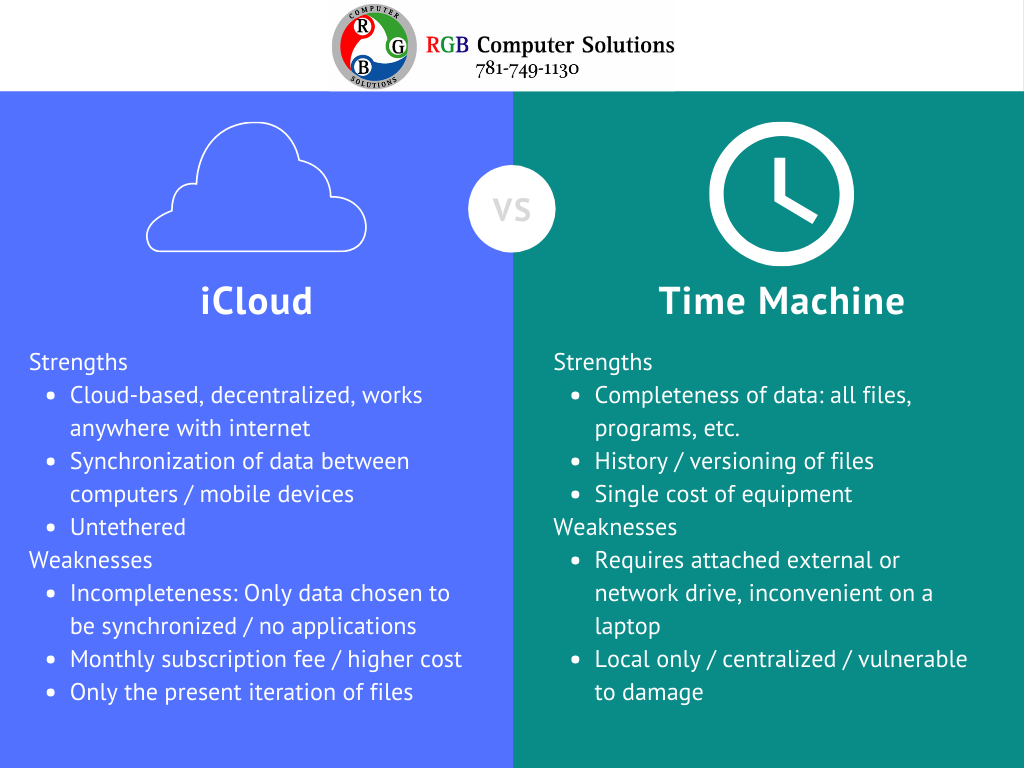 Related Posts: The Information Safety Net, Cloud Storage and File Hosting, Macrium: Making the Perfect Backup