We've spoken before on the subject of the numerous call center scams that exist for the purpose of convincing people they have a problem and taking their money to "fix it", but with the increased frequency at which we've been hearing about more and more clients being affected, we decided that it would be prudent to go into more detail on the types of blue screen popups and tactics users may encounter.
As we've mentioned, on many occasions users might run into a page that is disguised to look like an error or even a Blue Screen of Death.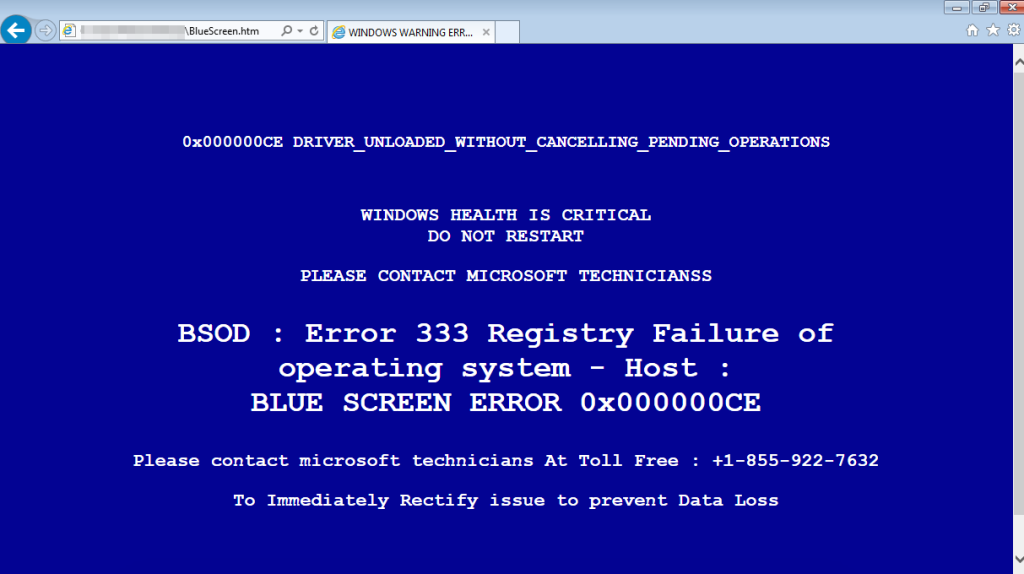 This type of message can be very jarring on its own, and to make matters worse, it will often be accompanied by a computerized voice making claims about errors or viruses on your computer. However, there are some tells that clearly indicate its illegitimacy. First off, if you take a moment and look at the screen, you can tell that this screen is clearly within the internet browser, which means the computer is still running. In every case, a blue screen is a complete crash of Windows itself, which means everything else will have closed before it can be displayed. Not only this, but it prompts for readers to call a support phone number. Microsoft has no such number that they provide on the blue screen of death. Third, and sometimes most telling, is the lack of proper spelling, grammar, or capitalization on the page. These types of trap pages are oftentimes surprisingly shoddily designed, and will often mis-word or misspell even basic terms. In the case of the example above, the message not only repeats the "Please contact Microsoft technicians" twice, but it also forgets to capitalize Microsoft, while it capitalizes "Immediately" and "Rectify" for some reason. The sentence as a whole also seems somewhat clunky and indicative of "English as a second language."
Calling the number on the page will get you to a (usually foreign) call center that will walk you through "fixing the problem" and charge you a great deal of money to do so. Refusing to comply once they have connected after a call to them can often lead to them actually messing with your computer in some way, and if the worst happens, they may make your computer unusable. To make matters worse, the page itself usually traps visitors on it with a continuously reappearing notification that prevents you from closing it, leading even people who might know better to call the number just to get control of their computer back.
Thankfully, wrenching control back from these types of pages is not impossible, and any consequences implied by the pages in question are usually empty threats. Three methods might be available to you, depending on your situation.
Method one is available to most users running a third-party internet browser; if you are running Google Chrome, Mozilla Firefox, or Opera Chromium, the option to "prevent this page from creating additional dialogues" will be available as a little checkbox at the bottom of the notification that seems to keep opening no matter how many times you close it. Checking it and acknowledging or closing the notification one more time will prevent it from appearing again, allowing you to simply close the page normally.
Method two is available to all users, but requires you forcefully close the process of your internet browser which, if you keep multiple pages open at a time, can cause you to lose whatever you are doing on the other tabs of your web browser. On your keyboard, pressing CTRL, Alt, and Delete (DEL) at the same time on a Windows PC will allow you to open the task manager. From there, simply choosing your internet browser and clicking on "End Task" will force it to close, allowing you to simply reopen it and continue working. For Mac users, pressing the key combination of Command, Option, and Escape (esc) allows you to activate the equivalent function, "Force Quit". From that windows, simply selecting the program you wish to close and clicking Force Quit will accomplish the same result.
The "Task Manager" window in Windows 10.
The "Force Quit" screen on a Mac.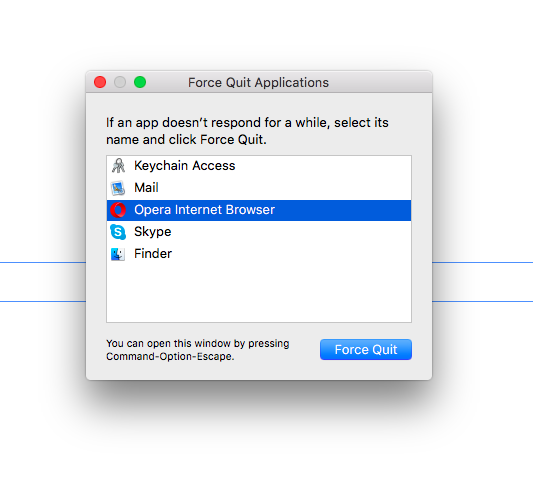 Method three should only be used as a last resort. It's simple to execute, but it can potentially cause problems if you perform it while your computer is updating or installing something, and can at least cause you to lose data if you have any programs open and you are editing documents or files that haven't been recently saved. In this case, simply holding down the power button on either a Mac or PC will force it to shut down, and the problem should be gone upon restarting it and logging back in.
---
Now in some cases, especially those in which you may have inadvertently installed something, you might be afflicted with something known as a "Browser Hijacker", or "Scareware". These pieces of software are some of the more extreme measures such call center scammers have been using in recent years, and they usually have the effect of automatically defaulting the home page of your internet browser to their own error page, or even going so far as to generate an otherwise inescapable error message upon computer startup. If this is the case, getting rid of such malware can be rather complicated, at which point it is usually recommended that you consult your local technician.
Related posts: Can Macs get Viruses?, Revisiting the Fake Blue Screen and Virus Alerts Popups