The Death of Unlimited Data
They say all good things must come to an end. I suppose that's true. Verizon has announced that it will no longer support an unlimited data plan. Verizon's move follow in footsteps of AT & T, which eliminated it unlimited internet data plan last summer.
Mobile device purchases have steadily escalated over the last several years and constantly connected consumers are straining network capacities embracing cloud computing other services.  This is especially true as the lines between device blur – phones like the T-Mobile My Touch can become a portable hotspot and share precious bandwidth with the masses. (A feature we happen to love.)
A study conducted by Nielsen last year indicated that smart phone data consumption averaged 300MB a month. However, Nielson did not exclude smartphone owners that did not use data services. Therefore, the statics are skewed slightly lower than the actual consumption rate for customers that use bandwidth.
Will It Spread?
It will likely only be a matter of time before all wireless carriers adopt a similar stance. The smart phone bandwidth usage graph looks like a steep isosceles triangle climbing with no end in sight.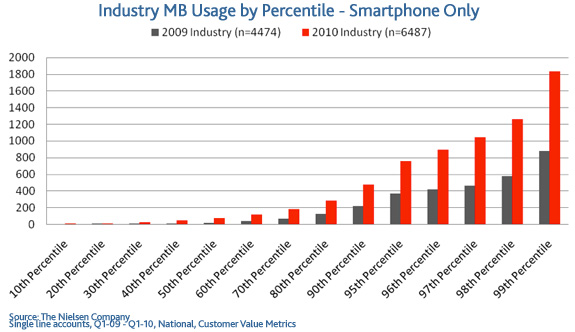 Nielson's data shows data consumption increased from 90MB per month, during the first quarter of 2009, to 298MB per month the first 3-months of 2010 – a 230 percent. It is likely that cable companies and other telecommunications service providers that offer internet connectivity will use actions of wireless carriers as an example and endorsement. It would not be surprising if home providers introduce surcharges for "excessive" bandwidth consumption.
Users of all devices, mobile, desktop and others have demonstrated an all almost insatiable desire for bandwidth. How else will they watch essential content like a puppy wearing a moustache? At some point somebody somewhere is going to have to pay for the extra hardware and network services required to keep serving up these massive amounts of data.
Our lovely free ride on the bandwidth highway might be slowing to a halt.