Whether it's something you think about or not, your data is important to you. Between precious photos, music collections, and work documents, sometimes that data can be more valuable than the device carrying it. For this reason, having a backup is essential. A backup ensures that your files and data live on in the event your device is lost or broken. We always recommend taking a two-pronged approach to backup – a local one on an external drive or other device, and a cloud backup saved elsewhere.
Local Backups:
Local backups are convenient, as most of your data can be retrieved quickly and easily in the event of a catastrophe, but they are vulnerable to large scale disasters. Having that external hard drive with a copy of your files is nice, but if your office floods during a storm or your house burns down, you might find that it has fared no better than your computer. This is where cloud backups come in. 
Cloud Backups: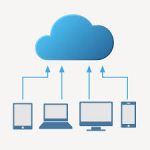 Cloud backups may be costlier and less convenient to restore, but they're often many miles away – safe from any local disasters.
Over the years, we at RGB Computer Solutions have dealt with not only setting up and restoring backups in many varied situations, but also challenging data recovery scenarios in which users have suffered a device failure without any form of backup at all. Whether you're trying to recover from such a disaster or prevent this from happening to you, we can help. 
Related Posts: Macrium: Making the Perfect Backup, The Information Safety Net